The host of the Mighty Marvel Podcast, Senior Art Director Jeff Suter talks with writer and Marvel Architect Jason Aaron about
X-MEN: SCHISM #1
, the biggest X-Men event of the decade! As a result of a recent international incident, mutantkind has lost almost all trust from within the human world, and cynicism against the X-Men is higher than ever. At a time when they should be banding together as one, cracks begin to emerge in their foundation when Cyclops and Wolverine end up on opposite sides of a conflict. Who will survive and what will happen to the mutants we know and love?
Download the new Mighty Marvel podcast now
to find out about the fight that is XMEN: SCHISM #1. United no more! The X-Men will never be the same again!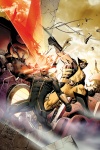 The Mighty Marvel Podcast
 is the can't-miss comic book podcast, featuring the biggest stars in the industry such as Brian Michael Bendis, Jeff Loeb, Matt Fraction and more! Make sure you keep checking 
Marvel Podcast Central
 or subscribe to The Mighty Marvel Podcast on iTunes, so you never miss any of the action-packed installments! 
XMEN: SCHISM #1
Written by JASON AARON
Pencils and Covers by CARLOS PACHECO
Variant Cover by FRANK CHO
Variant Cover by NICK BRADSHAW
Issue #1 Blank Variant Cover also available
T+…$4.99
On Sale July 13, 2011
Check out our latest feature allowing you to trade your unwanted comic books and gaming supplies with other readers.  Want to try a new comic series or game that you couldn't afford or didn't want to risk buying and being disappointed, well here's your chance.  Screw the system and selling your old comics and games  for peanuts, just post your trade for .99 cents and begin trading with others.  Read more on the Comics/Games Trading page.
Share on Facebook