Television: TV 'Wonder Woman' not going forward at this time.  Nellie Andreeva, with Deadline Hollywood reports that he TV reboot of Wonder Woman is being postponed. David E. Kelley's high-profile take on the female superhero has been shelved after not landing a deal at a broadcast network because of what sources called unfortunate timing.
Comics: Marvel gives us a sneak peak of the upcoming Silver Surfer #1.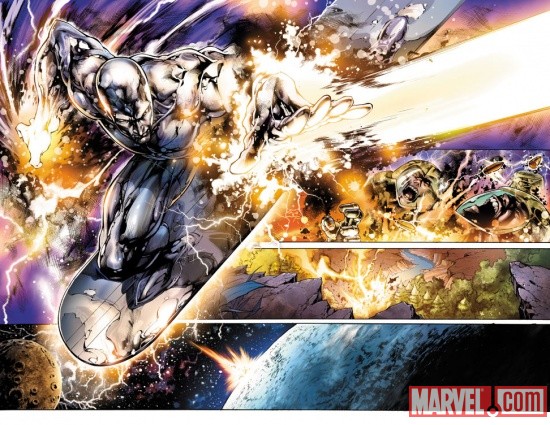 The Sentinel of the Spaceways soars through the cosmos once more this February in SILVER SURFER #1 (of 5), from New York Times best selling writer Greg Pak and artist Stephen Segovia! The dreaded messenger of the world-eater returns to Earth in a character-defining epic showing the Silver Surfer as you has never seen him before! But what fate does the High Evolutionary intend for the Surfer?! The wielder of the Power Cosmic has survived many battles, but can anything prepare him for what lies ahead? Find out when SILVER SURFER #1 (of 5) debuts soon!

Movies: Weekend box office wrap-up. Holiday holdovers True Grit and Little Fockers swapped positions atop the North American box office as new releases were met with modest business. Kidpics suffered the worst declines coming off of the New Year's holiday session while awards hopefuls held up the best as audiences caught up on buzzworthy films getting the most acclaim. Overall it was a sluggish session with the top ten slumping to the worst showing in 11 years for the first weekend of January.   Rotten Tomatoes. 
Cosplay: Just because.  Rei Ayanami.
Share on Facebook