Comics:Artist Sarah Pichelli Joins the creative team on Ultimate Spider-Man beginning with issue # 15.  
Only four artists have illustrated the series currently called ULTIMATE COMICS SPIDER-MAN over the course of its decade-long. This fall, a new name joins this exclusive club as Sara Pichelli enters into a rotating line-up with David Lafuente, collaborating alongside writer Brian Michael Bendis.
Ultimate Spider-Man #15 preview art by Sara Pichelli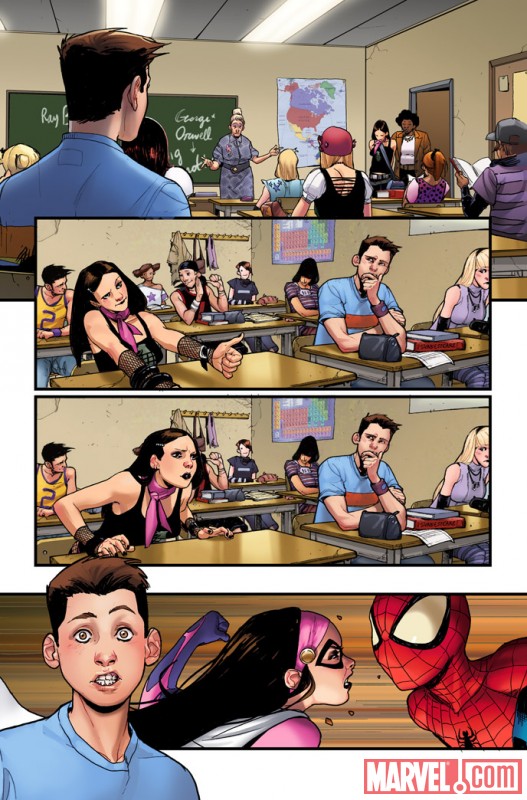 A rising star in the world of comics, Pichelli has illustrated several Marvel series including RUNAWAYS, X-MEN: PIXIE STRIKES BACK and NAMORA. The Italian artists came to Marvel Talent Coordinator C.B. Cebulski from a cold submission entered into his Chesterquest talent competition.  Marvel Comics.
Movies:Weekend Box Office Wrapup : Audiences Still Friends With The Social Network.  Strong word-of-mouth allowed The Social Network to remain at number one at the North American box office and beat out three new releases. The Katherine Heigl comedy Life As We Know It and the Diane Lane drama Secretariat both scored decent debuts but neither was big enough to unseat the buzzworthy Facebook film which enjoyed the smallest second weekend drop of any film opening at number one this year. More bad news for Universal and the 3D movement came from the poor performance of the horror film My Soul to Take which barely debuted in the top five. Overall the marketplace was sluggish with the Top 20 taking in just $88M for a double-digit fall compared to last year.  Rotten Tomatoes.
Comics:Godzilla finds new stomping grounds at IDW.  The biggest star in motion pictures prepares to wreak havoc once again! IDW Publishing is thrilled to announce a partnership with Toho Co., Ltd. to create all-new GODZILLA
comics. Starting in 2011, Godzilla will smash his way back onto the scene with a cast of characters from his films never before seen in comics.
"This new series will be monsters and mayhem, but most importantly, it's going to be a lot of fun," said Yukio Kotaki of Toho. "Godzilla has been gone from comics for too long and we feel that IDW is the perfect company to welcome him back in 2011."
In addition to the King of the Monsters himself, the new comics from IDW Publishing and Toho Co., Ltd. will feature many of Godzilla's friends and foes, including MOTHRATM, KING GHIDORAHTM, RODANTMand more that have never before been featured in an American comic book series alongside Godzilla. With an impressive cast of monsters both old and new, IDW's series will treat fans to both familiar themes and original takes on the pop culture legends that have stomped, smashed, and fought their way across movie screens for over five decades.  IDW Publishing.
Share on Facebook