Cartoons: The Doom Patrol comes to Batman: The Brave and The Bold.  Official Press Release
Cartoon Network and DC Entertainment have released the following screengrabs, video clips and synopsis for the "Batman: The Brave and the Bold" episode titled "The Last Patrol." Co-starring the Doom Patrol, the episode is scheduled to air Friday, October 8 at 7:30 PM on Cartoon Network.  The outsider-heroes The Doom Patrol are pulled out of a hasty retirement when supervillains begin trying to assassinate them — or perhaps re-unite them?  Source: Cartoon Network.
Dungeons & Dragons: Further proof that D&D causes players to partake in the Devil's handy work?  Dateline Denver, a 27-year-old suspected of bank robbery was arrested by Boulder police late Tuesday at a Dungeons and Dragons event in Boulder.  Aaron Klug was arrested in connection with the June 29 robbery of the U.S. Bank in Longmont.  Denver Post.
Television: Marvel Television rocks New York Comic Con 2010.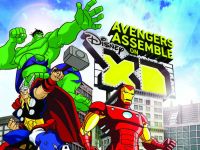 As anticipation builds for "The Avengers: Earth's Mightiest Heroes" and "The Super Hero Squad Show" to hit the small screens within just days of the Con, there's no better time to reveal what Marvel has brewing for these groundbreaking animated series! This year, Marvel will not only debut some never before seen footage but also reveal exclusive artwork and a collection of other animated treats at New York Comic Con 2010! Marvel Television smashes its way back to New York Comic Con this year for another weekend full of entertaining panels, awesome giveaways, and action packed surprises!  There will also be scoop on the Iron Man Armored Adventures upcoming cartoon.  Marvel Comics.
Star Trek: Abrams' Trek And Star Trek II: The Wrath Of Khan Comics.  
Two comics featuring Star Trek movies including Star Trek XI and Star Trek II: The Wrath of Khan are available for fans to enjoy.
The comics are part of a series in which a boy and his robot "mysteriously gain the power to jump in and out of movies." In the course of the comic strips, some of the plot holes and flaws of the movies are ridiculed. The comics are the work of Josh Edelglass.  TrekToday.
Share on Facebook