Animation: The Avengers: Earth's Mightiest Heroes! an all-new animated series featuring the best of the best in the Marvel Universe, premieres Wednesday, October 20 (8:30 p.m., ET/PT) on Disney XD. Produced by Marvel Animation, the series stars the world's greatest heroes–Iron Man, Thor, Captain America, The Hulk, Ant-Man/Giant Man and Wasp–who form the Avengers, a team assembled when the powers of a single hero are not enough to save the world.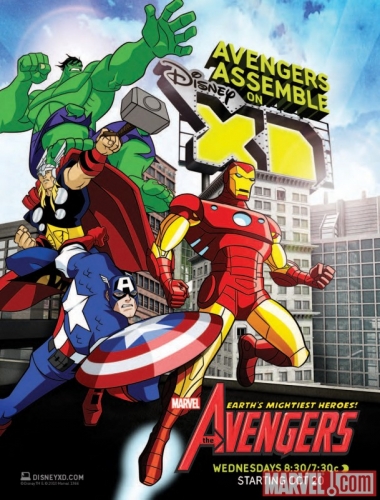 Beginning Wednesday, September 22, Disney XD, DisneyXD.com/Avengers, Marvel.com, MarvelKids.com and Disney XD Mobile will roll out 20 micro-episodes introducing the team's core members. Each five-and-half-minute episode focuses on the back story, allies and nemeses of the heroes before the Avengers were formed.  Marvel Comics.
Movies: Ryan Reynolds: I'll be in either Deadpool or R.I.P.D., but probably not in both.
Legions of Deadpool fans are waiting anxiously for the Merc With A Mouth's spin-off movie, hoping it'll redress Wade Wilson's mistreatment in
X-Men Origins: Wolverine
. But Ryan Reynolds told us he'll either star in
Deadpool
or
R.I.P.D.
.. but not both. 
io9.com.
Online Gaming: World of Warcraft players soon able to chat on the go.  Blizzard is constantly making it easier for World of Warcraft players to keep the game with them wherever they go. After releasing a Remote Auction House addition to the Mobile Armory application on the web, the iTunes App store, and Android store in May, Blizzard has announced a future functionality addition that will also allow players to chat with guild members no matter where they are.  escapistmagazine.com. 
Share on Facebook