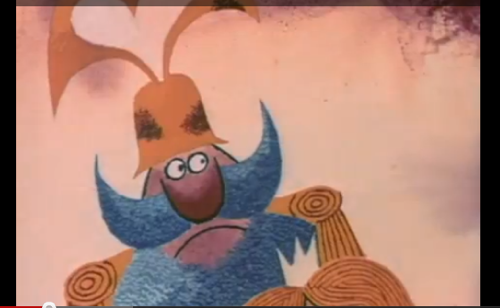 In this time of Hobbit hystaria a rare 12-minute Hobbit cartoon by Gene Deitch (Tom and Jerry) from 1968 has resurfaced.  Based on drawings by Czech illustrator Adolf Born, this version is certainly unique.
According to The Beat, producer Bill Snyder was trying to hold onto the rights to the Hobbit, which he'd acquired from the Tolkiens in a one sided bargain, in the face of its sudden popularity surge in the late 60s. Deitch tells the rest of the story:
Why invest money, plus a year-and-a-half of work, when you can make money without all that sweat? Not only had the Tolkien estate lawyers given Snyder the rights for peanuts, but in their ignorance of film terminology, they had left a million-dollar-loop-hole in the contract: It merely stated that in order to hold his option for THE LORD OF THE RINGS, Snyder had to "produce a full-color motion picture version" of THE HOBBIT by June 30th 1966. Please note: It did not say it had to be an animated movie, and it not say how long the film had to be!
Get the latest comic book, gaming, sci-fi, movie, cosplay and animation news on The Ninja Report, containing sourced and aggregated news from every corner of the internet and updated every ten minutes!  Never miss another headline, preview or breaking story, Ninja Nation!  Then, when you're done with the news meet and rate your favorite cosplay models and fans over at our sister site Cosrater.com.
Share on Facebook