Indiana Jones: In advance of the upcoming 30th anniversary of Indiana Jones, Hasbro has announce a release of the following iconic action figures.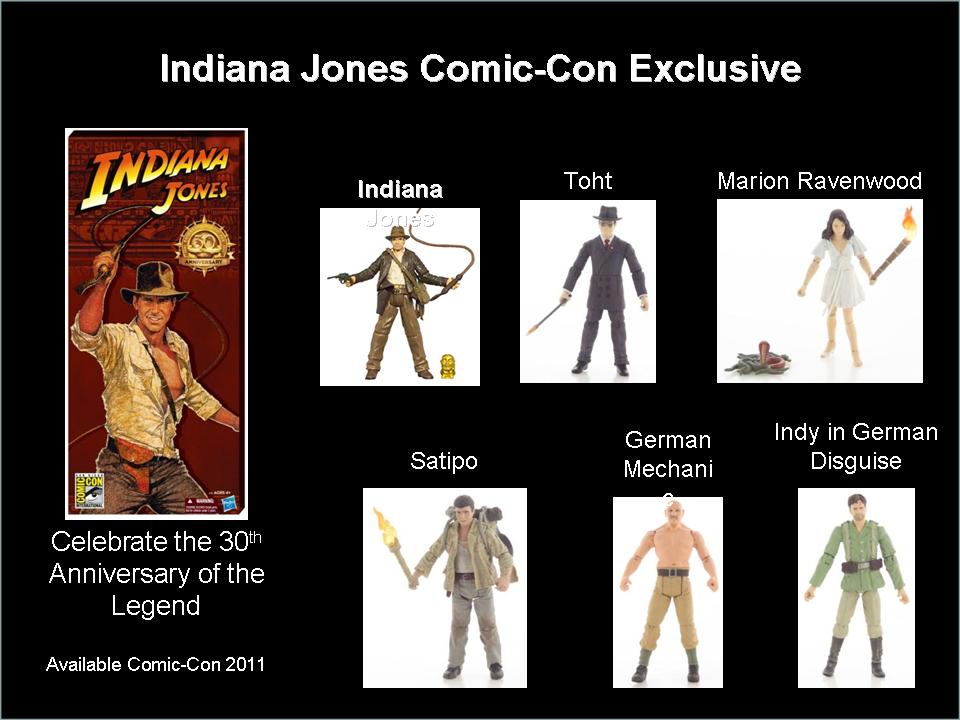 Convention: Staying with the Indiana Jones theme, just announced: Indiana Jones Tribute Convention Show.  Where: Chicago, Illinois.  When: Early October
Description from Festivals.com:
A three day Convention weekend Event with  daily activities during all 3 days.   Our weekend Convention Event show shall include appearances from the cast of actors from all 4 Hit Indy films. The attending fans will have the opportunity to meet these participating stars In-Person for Autographs, have photos taken with their favorite actor, participate in daily activities, Auctions and Contests, sit in on Daily Fan Question and Answer sessions with the stars of the films, and a Dance Party in the evening. We also have Very Special surprises for the attending fans, unlike anything ever seen before at any other convention. This will be an opportunity Surely NOT to be missed by any Indiana Jones fan!  More.

Comics: Dark Horse and Nickelodeon to bring Avatar: The Last Airbender to Comics.
Following the breakout success of last year's Avatar: The Last Airbender—The Art of the Animated Series, Dark Horse is proud to collaborate with Nickelodeon on a comprehensive publishing program built around this beloved and exciting Emmy-winning animated series!
The first installment of this new series will be released on Free Comic Book Day, May 7, with two introductory short stories—the unpublished tale "Relics" and the iconic Dirty Is Only Skin Deep… This free comic will be packaged with Lucasfilm's Star Wars: The Clone Wars in a special flip-book comic, available only at your local comic book shop.
Avatar: The Last Airbender—The Lost Adventureswill be released on July 13. This all-new 240-page comic book contains over 70 pages of never-before-seen material in addition to long-out-of-print comics previously published in Nickelodeon Magazine. With 26 stories set in Airbender continuity and created by a host of top-notch talent, many of whom worked on the original animated series, this is an essential addition to any fan's bookshelf.  More.
Get the latest comic book, gaming, sci-fi, cosplay and animation news on the Comic Book and Gaming News page, aggregated and updated every ten minutes!  Never miss another headline, Ninja Nation!
Share on Facebook