Movies: Disney is planning two more "Pirates" Sequels.  From Hitfix.com,  "Because HitFix can now exclusively report that Disney has begun quietly telling cast and crew to set aside a major block of time in the very near future so they can shoot "Pirates 5″ and "Pirates 6."  And, yes, once again, they will be shooting them back-to-back as one giant film, and then they'll release them as two films."  Read the full article Hitfix.com.
Comic Books: X-Men scribe Mike Carey gives his five favorite Avengers.  Mike Carey might not be a name generally associated with the Avengers thanks to his longtime gig as an X-Men writer on titles like X-MEN, X-MEN LEGACY and the upcoming Age of X event, but that doesn't mean he's not a fan.  Read on at Marvel.com.
Star Wars: RebelScum.com releases its 2010 Holiday Gift Guide. The holiday season is upon us once again, and that means it's time to pick out Star Wars gifts for your fellow fans. It also means that your family and friends will be on the lookout for cool Star Wars items to give you! As any die-hard collector knows, it can be hard for your family to find something you don't already have, or even just something that you're guaranteed to enjoy. There's a lot of Star Wars merchandise out there, and sifting through it to find the gems of the 2010 holiday season is a task that no one should have to do on his or her own.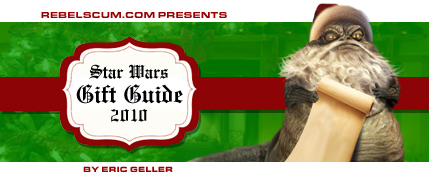 Share on Facebook